Castle Weddings in Bucks County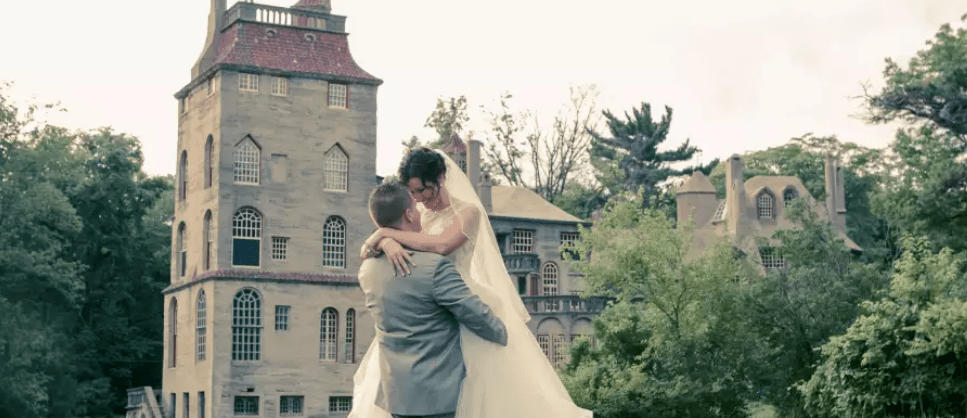 Do you dream of getting married in a castle? Every bride dreams of a romantic fairy tale wedding and some brides make their dream come true by holding their wedding at an actual castle. Bucks County is home to three of the most magical and beautiful castles in the state. You can plan an unforgettable event on these historical grounds!
Fonthill Castle
Modern Bride:
Picture, it, you and your spouse surrounded by romantic greens and beautiful bridges stretching across a babbling creek. It's no wonder Fonthill Castle is one of the most sought-after wedding venues in the county. If you love nature and true unabridged romance, this is the wedding venue for you. Fonthill Castle is a dream location for a wedding of any size. The exclusive catering and ambiance will convince you that you are truly living a fairy tale. With an actual castle as your backdrop, your guests are in for a true royal wedding experience.
History-Loving Bride:
This Castle was home to Henry Mercer, the same archaeologist who created Mercer Museum. If you have ever wondered what living in a castle is like for the day, now is your chance! Built in the early 1900's, this once family home, now houses his impressive collection of tiles and prints. Mercer himself designed this castle with Medieval, Byzantine, and Gothic architecture styles in mind. This home is truly one-of-a-kind.
Mercer Museum
Modern Bride:
Mercer Museum will make choosing an indoor wedding or a tented outdoor wedding your hardest decision yet. You and your other half can exchange vows under the magical setting sun, and dance your cares away. Indoors you can show your close friends and family that your marriage is as timeless as the wonderful artifacts that line the walls. The beautiful juxtaposition between the hand-made concrete wall and thriving greens, make for jaw dropping engagement and wedding photos.

History-Loving Bride:
Erected in 1916, this castle is recognized as a National Historic Landmark. This well-known archaeologist, artifact collector, and tile-maker wanted to ensure items that embodied everyday living prior to the Industrial Revolution. This historical wonder is home to almost 30,000 artifacts that Mercer preserved and took care of. If you chose to get married in the Mercer Museum, you will be standing among some of the most cared for pieces of history in Bucks County and what could be more romantic than that? Choosing to say "I do" in the Mercer shows your loved ones that your marriage will stand strong against the hands of time.
James A. Michener Art Museum
Modern Bride:
Deciding between an indoor or outdoor venue, makes most brides feel stuck between a rock and a hard place. The James A. Michener Art Museum is the perfect blend between the two. Your wedding will be housed in the ballroom which is surrounded entirely by floor to ceiling glass walls on all sides. These glass walls allow you to enjoy the magical grounds without worrying about Mother Nature's finicky weather. The gardens house beautiful and grand fountains that make for the perfect backdrop for your dream wedding. Cinderella had her glass slippers and carriage, you'll have your glass ballroom.
History-Loving Bride:
The museum was named after a local Pulitzer Prize winner, James A. Michener whose dreams of a regional art museum came to fruition. Originally built in 1884, these beautiful grounds were originally designed as a local prison. In 1980, the old stone building was given over to be a museum. The old-world stone walls stretching toward the skies, will make you feel transported back in time.
*Info and photo courtesy of www.vsitbuckscounty.com