Celebrating Memorial Day Weekend in Bucks County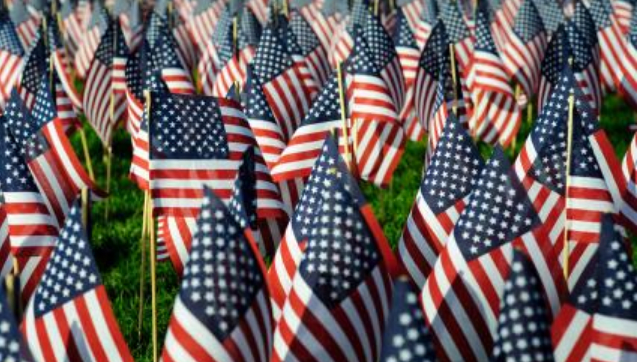 Memorial Day weekend in Bucks County is here! It's time to celebrate the unofficial start of summer with a slew of parades, BBQs and parties happening all around the County.
Kick off the Memorial Day celebrations early with a BBQ brunch at Neshaminy Creek Brewing Company, featuring delicious food from OINK and MOO BBQ, as well as plenty of signature NCBC brews! Enjoy a day of family fun at PARX Casino – filled with BBQ, face painting, moon bouncing and more! Washington Crossing Historic Park, Hulmeville and Morrisville pay respect to those who have served and those currently serving with observances, bands and patriotic parades.
Below is a guide for details on this weekend's events around Bucks County.
Friday, May 25
Sip, Sip Hooray Let's Celebrate National Wine Day!
Come to Crossing Vineyards to celebrate the happiest day of the year. Enjoy specialty cocktails, winery tours on the hour, discounts and more. You'll be on cloud wine!
When: May 25, 12 – 6 p.m.
Where: Crossing Vineyards and Winery
Cost: Free to attend
An Act of God at Bucks County Playhouse
In an era where seemingly everything from "Roseanne" to "Will and Grace" has received a reboot, God also has decided to take a fresh look at one of his greatest cultural achievements, The Ten Commandments, in the hilarious Broadway comedy, An Act of God.
When: May 25 – 27, check online for showtimes
Where: Bucks County Playhouse
Cost: $40 - $75
43rd Bucks County Designer House & Gardens House Tour
Established in 1791 as a Mennonite Dairy Farm and fruit tree orchard, Cedaridge was acquired by Derek and Carolyn Fell in 1989 and spans more than twenty acres of meadows, streams, and woodlands. It includes the main house, a gardener's house, a ranch house with Mercer tile bathrooms and a peg barn that was transported from the Poconos.
When: May 25 – 27, 12 – 4 p.m.
Where: Cedaridge Farm
Cost: $35
Summer Wine Concert at Market at DelVal
Bring the whole family to relax on the lawn and enjoy great LIVE entertainment by local musicians, while sipping on locally made Rose Bank Winery wines or PA craft beers at the Market at DelVal.
When: May 25, 6 – 9 p.m.
Where: The Market at DelVal
Cost: $3
Happy Hour at the Winery – Cheers to That!
Stop by Crossing Vineyards during the happiest hours of the day to enjoy scenic vineyard views, beautiful garden seating and special Happy Hour pricing on glasses of wine, craft beer and hard cider.
When: May 25, 5 – 7 p.m.
Where: Crossing Vineyards and Winery
Cost: Free to attend
"Racing: A Need for Speed" at Mercer Museum
The Mercer Museum's "Racing: A Need for Speed" exhibit explores the colorful history of racing in Bucks County, PA and the nearby Delaware Valley, from the footraces of the native Lenape to the fairs and horse tracks of the 1800s, to the auto speedways and bicycle velodromes of the 20th century.
When: May 25 – 27, 10 a.m. – 5 p.m.
Where: Mercer Museum
Cost: Included with admission
After Dark Series – Flower Moon
Join the Silver Lake Nature Center for their new After Dark series! The staff will lead guests through the preserve with only the full Moon to guide them. The hike will start at the Nature Center and finish at the Earthship, where attendees can enjoy a fire and roasted marshmallows.
When: May 25, 7 – 8:30 p.m.
Where: Silver Lake Nature Center
Cost: $10
AOY Members Art Show and Exhibition
Art lovers are invited to the AOY Art Center Gallery to view the extraordinary works of art by local artists and AOY Members. Guests will find a variety of original paintings, prints, drawings, mixed media and 3D items, many that echo the beautiful Bucks County landscape.
When: May 25 & 27, 12 – 5 p.m.
Where: AOY Art Center
Cost: Free to attend
Saturday, May 26
Oscar's Wacky Taxi Opening in Sesame Place
Sesame Place opens Oscar's Wacky Taxi, its first-ever family-friendly wooden roller coaster, this weekend! Join Oscar the Grouch for a crazy, curvy taxi ride in a one of a kind wooden-steel hybrid roller coaster with a bright yellow, taxi cab inspired train with everyone's favorite grouch at the helm.
When: May 26
Where: Sesame Place
Cost: Free with admission
Doylestown 5k
The Doylestown 5K Race and One Mile Fun Run promotes healthy living in Bucks County. The Fun Run is perfect for beginners, young runners, or runners warming up for the 5K race. This year's One Mile Fun run is going to be super, super hero capes for all.
When: May 26, 9 a.m. – 12 p.m.
Where: Our Lady of Mount Carmel School Gym
Cost: Fun Run $10 online & $15 on race day; 5K Race $30 online & $40 race day
Poland Through the Ages: A Living History Fair
Bringing the Past into the Present! Living history reenactors from across the USA will present life during the 15th-21st Centuries. See demonstrations, period clothing, armor, weapons, battles, the infamous winged Husars, Poland's legendary calvary, and participate in a royal banquet!
When: May 26 – 27, 11 a.m. – 6 p.m.
Where: National Shrine of Our Lady of Czestochowa
Cost: $8/adults; $5/children & seniors
The Proper Brewing Company's First Can Release
Be a part of Proper history! Proper Brewing is releasing its first cans for purchase. 12OZCure will be playing live in the parking lot and attendees can look forward to beer, food and games to kick off the holiday weekend!
When: May 26, 12 – 4 p.m.
Where: The Proper Brewing Company
Cost: Free to attend
Civil War Cycle Tour
Cycle through Doylestown's Civil War history, see the home and graves of generals, learn about Bucks County's link to the Underground RR and then tour the Bucks County Civil War Museum and Library. Reservations are required.
When: May 26, 9:30 a.m. – 12:30 p.m.
Where: Encore Rides (32 N Broad St.)
Cost: $40
Sunday, May 27
Beer Brewing & Garden Highlights
Visit the Pennsbury Manor to meet their gardeners, learn what's happening this spring in their Kitchen Garden and watch their brewers in action!
When: May 27, 1 – 4 p.m.
Where: Pennsbury Manor
Cost: Free with admission
2nd Annual Morrisville Restaurant Week
Morrisville's Second Annual Restaurant Week kicks off this Sunday! Visit the borough's top eateries for a delicious meal and help raise money for the Morrisville Ambulance Squad - 5% of all proceeds will be donated from the restaurants to the Morrisville Ambulance Squad.
When: May 27
Where: Participating restaurants
Cost: Varies on location
Memorial Day Events
Memorial Day Observance at Washington Crossing
Join Washington Crossing Historic Park for their annual Memorial Day observance – beginning at the gravesite of Continental soldiers. The observation will include a colonial color guard, the Old Barracks Fife & Drum Corps, Revolutionary War reenactors, the Guardians of the National Cemetery Firing Party, Daughters of the American Revolution, veterans, and other honored guests.
When: May 27, 1 – 2 p.m.
Where: Washington Crossing Historic Park
Cost: Free to attend
Pre-Memorial Day BBQ Brunch
Neshaminy Creek Brewing Company is throwing a BBQ brunch to kickoff Memorial Day celebrations early! Swing by for amazing grub, tasty brews and specialty cocktails, like the Bacon Industry Bloody Mary.
When: May 27, 11 a.m. – 2 p.m.
Where: Neshaminy Creek Brewing Company
Cost: $30
Memorial Day Weekend at The Raven
The Raven is throwing a weekend-long Memorial Day celebration, featuring daily events including a T.G.I.F. Dance Party, a pool party, morning brunch and more!
When: May 25 – 28
Where: The Raven Resort & Restaurant
Cost: Free to attend
Memorial Day BBQ at Lumberville General Store
Visit the Lumberville General Store for a BBQ-inspired menu that features a burger bar, BBQ pulled pork with roasted pineapple, smoked chicken breast and much more!
When: May 27, 3:30 – 7 p.m.
Where: Lumberville General Store
Cost: $22.50/adults; $9.95/kids
Memorial Day Salsa Party
Wear your red, white and blue to kick off your weekend with a Memorial Day Salsa Party at La Luna! Guests can look forward to a backyard BBQ buffet and salsa lessons from expert instructors!
When: May 25, 8:30 p.m. – 2 a.m.
Where: La Luna Dance Studio
Cost: $15
Penndel-Hulmeville Memorial Day Parade
Visit Hulmeville to pay respects to the serviceman and woman who gave the ultimate sacrifice for us. The parade marches from Ford Ave in Hulmeville, follows Main Street and ends at the Penndel Recreation Field. A time capsule will also be filled and buried with the mementos and memories from The Wall in Bucks County.
When: May 26, 9 a.m. – 12 p.m.
Where: Hulmeville/Penndel
Cost: Free to attend
Memorial Day Live Racing & Family Fun
Visit PARX Casino for live music and free family fun in the Picnic Grove while watching live thoroughbred horse racing!
When: May 28, 11 a.m. – 5 p.m.
Where: PARX Casino & Racing Picnic Grove
Cost: Free to attend
Warrington Township's Memorial Day Ceremony
Bring your family and friends to pay honor and respect to all veterans during the Warrington Township Memorial Day Ceremony at Igoe Porter Wellings Memorial Field – named after three Warrington serviceman who died in the line of duty.
When: May 26, 11 a.m. – 1 p.m.
Where: 3095 Bradley Road, Chalfont, PA
Cost: Free to attend
Morrisville Memorial Day Parade
Visit the Morrisville borough for the annual parade honoring those who have served and those currently serving through bands, patriotism and community participation.
When: May 28, 9 – 11 a.m.
Where: Morrisville, PA
Cost: Free to attend
*Courtesy of www.visitbuckscounty.com