Seasonal Wines to Enjoy on the Bucks County Wine Trail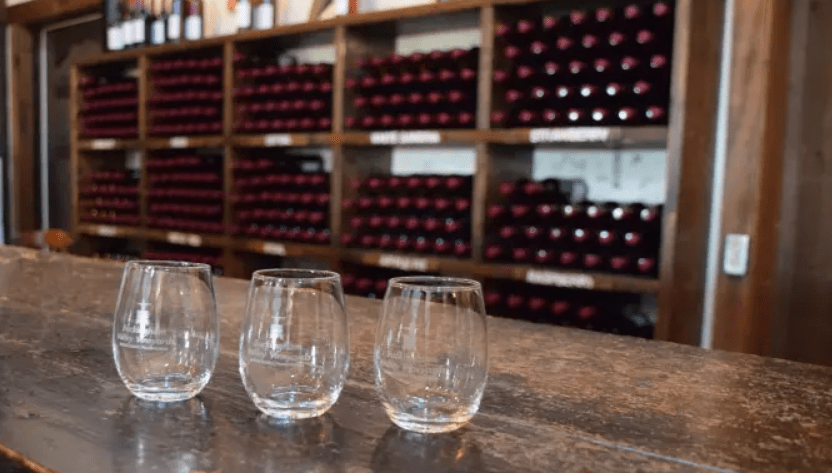 With the cooler temperatures of fall and the upcoming holiday season, warm up with a glass of Bucks County wine. The wineries of the Bucks County Wine Trail craft seasonal wines, enhanced with hints of fall flavors and spices that can be served chilled or warmed. Buy a bottle to enjoy at home or to share with friends and family Thanksgiving and Christmas gatherings.
Celebrate the fall harvest with a glass of Apple Wine from Crossing Vineyards & Winery. This fall favorite gives you a taste of freshly pressed Granny Smiths with hints of honey and butterscotch. Also, try the Chocolate Cherry Truffle, a full-flavored Port-style wine that blends dark chocolate with black cherry, ripe plum and toasted oak.
The mixture of cloves and cinnamon in a bottle of Holiday Spice from Buckingham Valley Vineyards creates the perfect flavor for the holiday season. Have a glass by the fire to warm up on a chilly autumn night.
Made from sugar and spice, a bottle of Everything Nice from Wycombe Vineyards is the perfect wine for the holiday season. Enjoy a bouquet of warm apple pie when you serve this wine with a scoop of ice cream!
Rose Bank Winery serves up apple pie in a bottle with their award-winning Mulled Apple fruit wine. Fermented apple juice that's sweetened and blended with spices makes this seasonal wine perfect for a fall evening. Buy a bottle of the ever-popular Chocolate Orange Port for the holidays and enjoy the taste with your favorite candy dessert.
Spice up your wine collection with a bottle of Alpine Spice from Sand Castle Winery. The wine's blend of herbs and spices pairs perfectly with smoked meats and cheeses, as well as a slice of apple pie.
Other Wineries:
The Rushland Ridge Vineyards was founded in 1986 by the Ullman family, who have the owned vineyards since 1968. The 22-acre farm and 6 acres of vineyards sits center-west in Bucks County in Rushland.
The 18 varieties of grapes grown contribute to at least 20 different hand-crafted wines each year. Located near so many historical destinations, but set in the peaceful countryside.
The Unami Ridge Winery in Upper Bucks County is a must try experience. They are the youngest vineyard and winery on the Bucks County Wine Trail having planted their vines in 2005 and opening their tasting room in 2009. Their beautifully maintained vineyard and grounds make your visit a pleasant event. Go and taste all of their estate grown and bottled varieties in the small intimate tasting room. Owners Jim and Kathy Jenks have created this unique property to produce great wines for your enjoyment.
*Courtesy of www.visitbuckscounty.com